Porter & Co. Activist Investor is finally available…
For the first time ever, you can now profit from one of the financial market's most powerful and lucrative forces - activist investors.
To get you started, Porter Stansberry and Tom Carroll have identified two under-the-radar activist opportunities.
The Drug Kingpin and The Gunslinger are among the best opportunities we've ever seen - superb, yet deeply undervalued businesses that activist investors are coming in to fix and extract massive value from.
But both of these companies (and every other activist opportunity we target) are exclusively for members of our new advisory, Porter & Co. Activist Investor.
And the ONLY way to get access is to upgrade to Partner Pass.
Partners are the elite members of Porter & Co. and they get permanent membership, not only to Activist Investor, but to ALL of our services.
For as long as we are in business, our Partners have permanent access to everything - every single new product, advisory, report, analyst, recommendation… everything.
The current annual value of our Partner Pass suite is over $15,000.
That's what you'd need to pay per year for all the advisories included. But we don't sell our Partner Pass products individually. And we likely never will.
Instead our Partners get everything for life, for just one payment.
Right now, to celebrate the launch of our new advisory Activist Investor, you can upgrade to Partner Pass for the lowest price you will ever see .
Instead of $15,000 per year…
Your investment is just $6,500 for permanent access.
And remember, that's for everything Porter & Co. produces now and in the future (see below for a list of all your incredible Partner benefits). All you will ever pay again is a small annual maintenance fee of $249.
Be warned though: we've already raised the cost of Partner Pass four times… and we will continue to increase it with every new advisory we add to the roster.
In fact, when this special offer ends (just days from now), the cost will rise by several thousand dollars. So if you want to upgrade to our inner circle, there's no better time than right now.
Once this offer is off the table, you will never see it again.
If you're ready to get started, simply fill out the secure form below, or if you prefer, you can call us at 1-888-610-8895 to speak with our team.
Ready to get started?
Click here to jump to the order box or continue reading.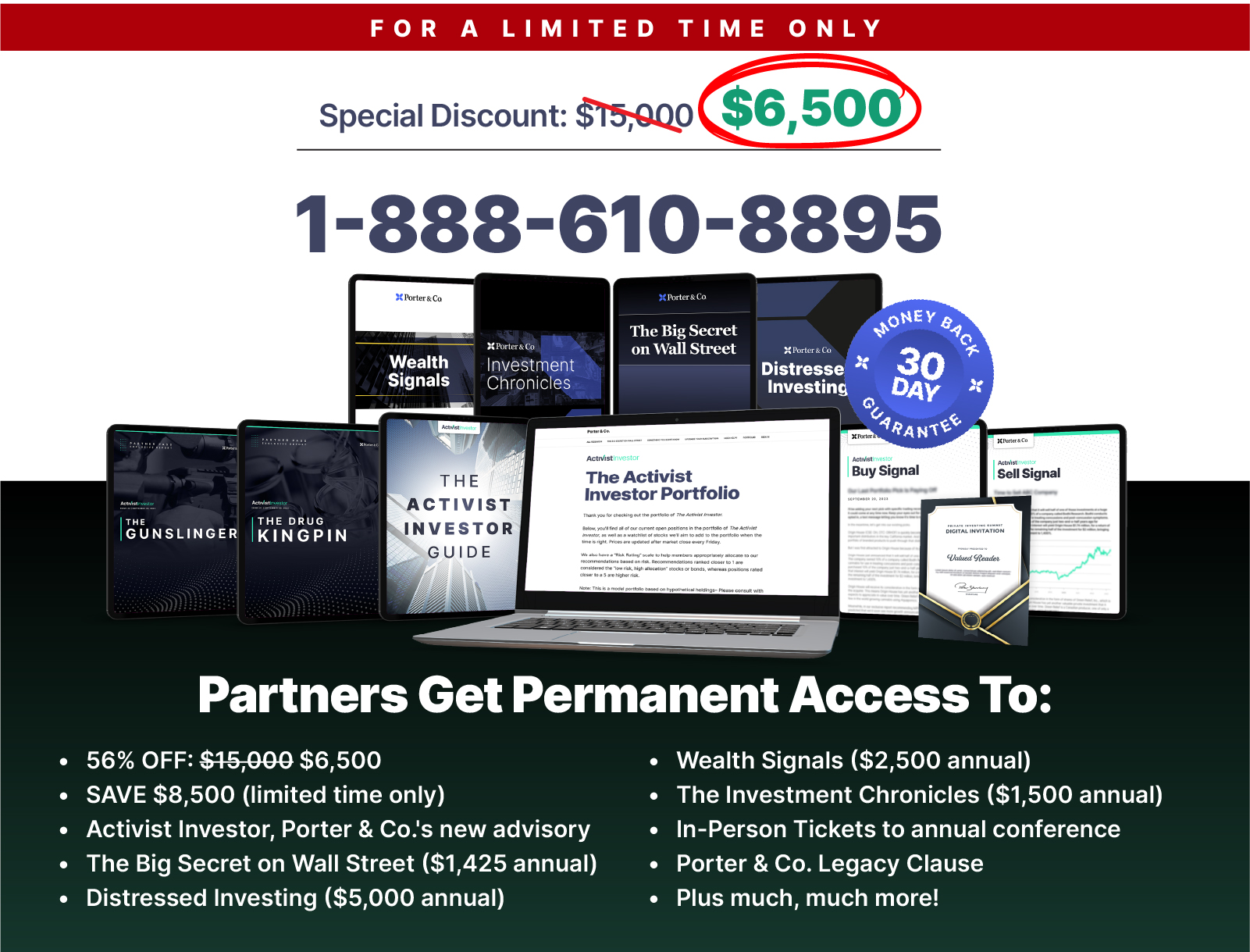 Our newest advisory shows you how to profit from one of the financial markets most powerful yet overlooked forces - activist investors.
Renowned analyst Tom Carroll will target the most lucrative activist campaigns being waged by Wall Street raiders… and show you how to invest in these undervalued companies before they surge in price.
To get you started, we have two unique investment opportunities: grossly undervalued companies that Wall Street has written off due to poor performance…
But that activist investors are positioning to engineer a turnaround that could send the company soaring to new highs.
You'll also get our guidebook to activist investing, model portfolio, ongoing analysis, and every new recommendation from Tom and his team.
This is our distressed debt advisory designed to help you profit from the coming default in U.S. corporate debt… what we call The Greatest Legal Transfer of Wealth in Human History.
Wall Street legend Martin Fridson will help you navigate this debt cycle and show you how to safely invest in distressed bonds and equities for double-digit annual yields along with double-digit gains on top.
On the second Wednesday of the month, Martin will send you a new report detailing the current state of the bond markets, plus share one new distressed opportunity.
You'll also get instant access to our backlog of issues, model portfolio, and a quick-start guide on why distressed bonds are among the best ways to generate outsized returns with strictly controlled risk.
In Wealth Signals, Scott Garliss separates the signal from the noise.
A former analyst for some of Wall Street's most elite money managers, Scott has developed a number of tools that allow him to see what's really going on in the markets.
He cuts through all the noise, speculation, and hype and pinpoints what's actually driving each sector, and the companies within them… and how you can position yourself accordingly.
Every month you'll receive a report from Scott which details the latest trends and stories across a number of sectors and what to expect next as a result.
The Investment Chronicles is like your own in-house research team.
We extract the most valuable and lucrative data from hundreds of sources and break it down into one simple monthly report.
Our team analyzes hedge fund letters, annual reports, SEC filings, investment newsletters, newspapers, Twitter threads, conferences, podcasts, and countless other sources…
Then we boil the key insights, investment ideas, and trends into one carefully-curated report that gives the discerning investor everything they need to better navigate the markets.
This is our flagship investment advisory where Porter Stansberry provides his unique financial insights, analysis, and recommendations.
Right now, Porter has several major themes he believes will shape the world over the next decade… and make early investors a fortune in the process.
The Big Secret on Wall Street is the only place you can access Porter's research and get his help positioning your portfolio for the years ahead.
Insiders get a weekly email from Porter Stansberry and his team along with ongoing research, new recommendations, the model portfolio, and all back-issues and reports.
Porter is among the only analysts to have predicted practically every major boom and bust over the last two decades… not to mention being among the first to recommend Nvidia, Apple, Shopify, Hershey's, and countless others.
Our goal with this Legacy Clause is to help you leave a legacy for your family. So even after you're finished with our work, the next generation of your family can benefit from our research.
Simply let my team know to whom you'd like to gift your Partner Pass membership, and we will ensure they have ongoing access to all of our work.
Every year Porter hosts a private conference for our members.
While all our members get digital access to the conference, due to overwhelming demand it is ONLY our Partners who will get in-person tickets.
You'll join Porter, his team, a selection of hand-picked analysts, and your fellow members for a multi-day financial event unlike any other.
Food, drink, entertainment, and insights you can't get anywhere else will all be provided during a one-of-a-kind event in Maryland.
Our Partners also receive every new advisory we launch in the future.
Everything - every new service, briefing, recommendation, analyst - it's all yours. At no extra cost. Simply upgrade to Partner Pass level now and you'll lock it all in, for life.
Our next advisory (launching Q1 or Q2 of next year) will be a biotech service that identifies some of the most exciting and lucrative emerging biotech firms in the world.
We then have plans to launch several other advisories in the following years - each of which you'll receive without paying another cent.
All this (and more) is waiting for you inside Partner Pass.
The annual value of everything is over $15,000. But as part of this special offer you can get LIFETIME access for just one investment of $6,500.
You're saving tens of thousands of dollars over a lifetime. But this offer is only good for the next few days. When it closes, the price will rise by several thousand dollars.
If you're ready to get started, simply complete the secure form below… or if you prefer to order over the phone, you can call our team at 1-888-610-8895.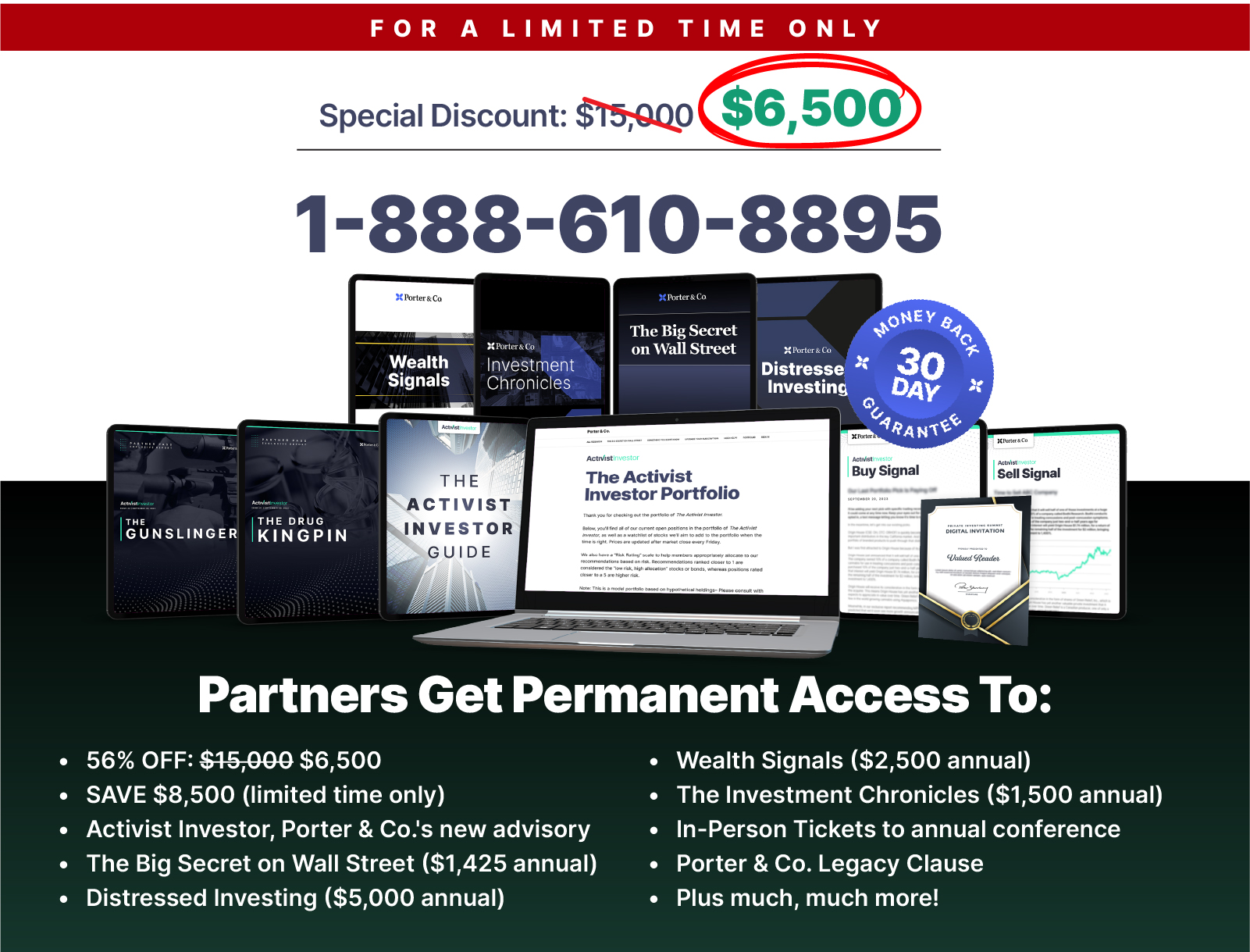 You are also protected by our money-back guarantee
Porter & Co. is the world's pre-eminent investment research firm.
We spend millions of dollars to bring our readers the best financial research on the market.
Our team includes Wall Street legends, former fund managers, and Fortune 100 consultants, all of whom are dedicated to producing the most valuable research available anywhere, at any price.
And while we protect your investment to Partner Pass with a 30-day money back guarantee, we do have a 10% refund charge.
If you think Porter & Co.'s Partner Pass is right for you and you accept these terms, we'd be thrilled for you to join us.